2018-12-17 India,Delhi-Jaipur-Agra (Gate 1 Tour)
(Note: to make the page larger hit the Ctrl and + keys at the same time. To make smaller use Ctrl and - keys.)
This was the MOST OUTSTANDING Trip of my LIFE!! This is a LONG post because I was away for a month. It is a very HARD post to make because I went to so many wonderful places and met so many new friends. Condensing the pictures and thoughts on this trip is extremely difficult for me. I've decided to break the post into two-pages.
WebPost 1 of 2: Gate1 tour of Delhi, Jaipur and Agra
WebPost 2 of 2: Kathmandu, and the visit to Ludhiana, India – one day in Chandagarh and one day at the Golden Temple in Amritsar
The short-story of the trip is that I flew to Delhi and met my friend, B, picked me up from the airport. The next day, we toured the city by a private driver for four hours one day. A day later, we joined a Gate1 Tour Company group and toured Delhi, Jaipur and Agra for a week. Then, B and I flew to Kathmandu in Nepal for 4 days and saw several UNESCO sites, early one morning, we flew to see the top of Mt. Everest, and the last day, we saw a wonderful sunset at Nagarkot. We returned to Delhi and then visited Bs family for a couple of weeks. Her family lives six hours drive north of Delhi in Ludhiana. While there, we visited Chandegarh for a day. It is a two-hour drive and we saw Bs family house, the rose-garden, the rock-garden and a manmade lake. A few days later, we spent the day at the Golden Temple, in Amritsar – about a two-hour drive from Ludihana.
Now for the long-story:
About twenty years ago, I worked in an office with many people and I met B from India while working there. We have kept in-touch with each other and occasionally meet for lunch. Well, last August, we ate lunch together and she told me that she was going to visit her family in India in November and wanted to know if I was interested in going. I hesitated because I knew that I had signed-up for a trip with Seniors-On-The-Go-Travel to go to Myrtle Beach in December. I told her that I would like to go but had committed to the other trip? She said that she would be there for 2 months and asked when the other trip ended. I replied December-13. She asked, Why not you come after it? S-o-o-o, she said that I could come after my trip. I said OK and we began making plans. (I would never consider going on a trip like this alone.) She said that she had a travel agent and would contact them about getting me a ticket for the flight. I didn't understand at that time that many people travel to India during the holidays and securing a flight early was critical. She also told me that I needed to get a visa and should contact the Indian consulate. Soon after the lunch, I looked on the internet about getting a visa and went to the consulate to apply. It turns out that the consulate is near my house. Actually, I went to the consulate address on the internet and was told after getting there that there is a remote office nearby with the computers, photo-booth, and staff to help with visa applications. I found the office and applied. I had taken my U.S. passport with me, filled in the form using their computer, and had my picture taken in a photo-booth in the office. The assistant took my credit card for payment, put my application and passport in a pouch and sent it to a processing center. In a few days, I had a Fed-Ex envelope containing my passport and the visa attached to one of the pages. (I learned later that many of the Indians who work in the USA and have family in India, use their 2-week vacation to go to India the last two-weeks of December. Then they return to the USA after staying the first two-weeks of January - making the time of my visit the prime-time for airline ticket prices to India.)
My friend, B, and I continued to make plans for the trip and I told all of my friends of my plans. I received advice from them about what they experienced and what they recommended that I pack. I made lists of items that I needed and purchased new items I thought I needed. One friend talked about getting "Delly Belly" and told me to pack immodium, a medicine for treatment of diarrhea. Another friend made a suggestion of several things to pack and included Pepto-Bismol in their list. As the time neared for the trip, I decided that I was going to try and pack all that I needed in one airline-check-in suitcase. Also, I would carry a backpack with items that I would need in the case that my luggage was lost.
In mid-November, B left on her trip. She planned to meet me in New Delhi when I arrived in mid-December. In early December, I had a case of travel-anxiety and thought of how chaotic the Atlanta airport can be. Once passengers retrieve their luggage from a trip, there are many exit doors from the area and I thought that when I arrived in India, if there were many doors to exit from the airport, I would most probably find the wrong one. I sent B an email asking about the exit doors from the airport and was surprised when she called me one day and told me that there is only one exit-door in India. I replied that I didn't know that and had experienced some travel-anxiety. We talked briefly about her having the cellphone of her brother while there and that she would email me the phone number. I had never called long-distance overseas and didn't know if I could get it to work. Also, I wasn't sure how to make a local phone call when there. She assured me that she would meet me when I arrived.
The day finally arrived when I was to leave. I had spent the previous day packing and thought that I had everything that I would need. On the day of the flight, I turned off the electricity in my house using the fuse-switches in the circuit-breaker box and I left 'on' the refrigerator. Also, I used a "T" bar and turned off the water to the house. (Note: I had a neighbor who left their house in the winter, the pipes froze and one of them broke. They returned to find a lot of water under the house and many of their floor-boards had warped.) I put the keys to my house and van in a secure spot outside because I didn't want to carry them for a month. I pulled my wheeled-suitcase into the driveway and wore my backpack. I locked the backdoor and scheduled a ride with Lyft. Upon arriving at the Marta station (the Atlanta rapid-transit system), I realized that I had meant to wear my jacket on the airplane and had forgotten to put-it-on it because it was a warm and sunny day. I considered returning to retrieve it, but decided to just buy a jacket after arrival. (Upon reflection, I probably should have returned home to get the jacket or made sure that I wore it when I put the suitcase outside.) At any rate, the trip to India was smooth. I was able to not incur any major problems. While waiting on my connection flight in Paris, I was able to get a wi-fi connection and send B a message. As soon as the airplane landed in New Delhi, I turned on my cellphone and shortly afterward, B called and let me know that she was waiting for me near the luggage area. I was amazed to find her fairly easily.
After our greeting, B introduced me to her sister-in-law, Baby. They had arranged both a hotel and transportation, so we left. We spent the night and "Baby" left the following day to return to her family. (When I told Baby about leaving my jacket home, she had an extra sweater that she gave me. I am eternally thankful to her for the gift. Before she left, we shopped at a local bazaar and I bought a fleece jacket.) B and I stayed in Delhi and went to the hotel where the Gate 1 Travel group started the tour. The tour started on December 22. (The day before my flight to India, I wondered how B and I would find each other at the Delhi airport terminal. I sent her an email asking her what door I should exit after retrieving my luggage. (The Atlanta airport is LARGE and has about 10 exit gates.) B called me from India to let me know that there is only ONE exit door from the luggage area and to look for her there. I was so-o-o relieved to know that I would not get lost at the terminal because of the ONE door to exit. After arrival, I learned that Indians may not enter the terminal unless they have a ticket to travel unlike the USA airports. B had to tell the door guard that she was meeting someone and only after having convinced the guard that she would only stay near the door, could she enter.)
Here is a copy of the Gate 1 Website information for the day: Old & New Delhi City Tour Begin in the walled city of Old Delhi, founded by Mughal Emperor Shah Jahan. Travel along the winding streets to Jama Masjid, the largest and best known mosque in India. On a cycle rickshaw, continue along the lanes of Chandi Chowk, once the imperial avenue of Mughal royalty. After lunch, on to New Delhi, a city of airy boulevards, lush parks and gardens. Visit the Sikh Temple and drive past the imposing India Gate War Memorial to Indian and British soldiers, Parliament House and the Presidential Palace. Enjoy a visit to the Gandhi Smriti, the official residence of Mahatma Gandhi, where he spent the last 144 days of his life, that is now a museum. The tour continues with a visit to Humayun's Tomb set in stunning gardens, designated a UNESCO World Heritage Site. This evening, meet with your fellow travelers and Tour Manager for an orientation meeting on the incredible journey in India that awaits you, followed by a Welcome Dinner at the hotel.
Next day (a copy from the Gate1 website): Travel to Jaipur
Depart New Delhi to Jaipur, gateway to the desert state of Rajasthan. En route, stop for some photos at the graceful sandstone Qutab Minar Victory Tower, the world's tallest brick minaret, now a UNESCO World Heritage Site. Arrive in glorious Jaipur, with its stucco buildings lining the wide streets and you'll understand why it is nicknamed the "Pink City." The city was painted its unique color in 1876 to celebrate the visit of the Prince of Wales. Drive past stunning hilltop forts and glorious palaces on the way to a bargain filled bazaar. Dinner is at the hotel.
I recommend that readers of this blog also visit website http://YouTube.com and search for the word "India". Many other travelers have placed video there about their trips. Also, looking at google maps pictures is very interesting.

INDelhi,IndiaGate
INDelhi,LotusTemple
INDelhi,HumayansTomb(Gate1Tour)
INDelhi,HumayansTomb(Gate1Tour)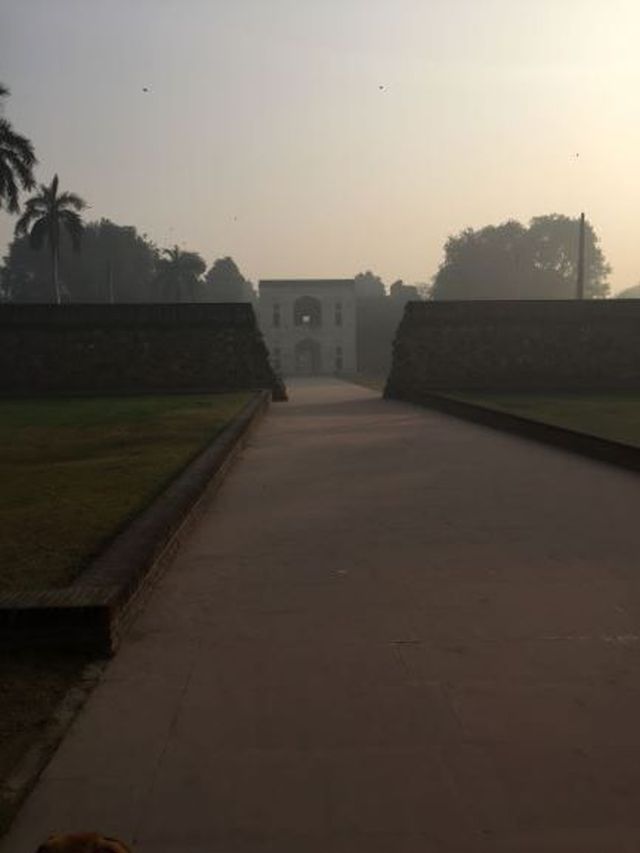 INDelhi,HumayansTomb(Gate1Tour)
INDelhi-gandi-museum-house-gate1-tour
INDelhi-Humayans Tomb-gate1-tour
INDelhi-Humayans Tomb-gate1-tour
INDelhi-Parliament-gate1-tour
INDelhi-Gandis-Last-Steps-gate1-tour
INDelhi-Humayans Tomb-gate1-tour
INDelhi-Gandi House-gate1-tour
INDelhi-GurudwaraBanglaSahib-gate1-tour
INDelhi-SikhTemple-gate1-tour
INDelhi-ParkHotel-dinner-gate1-tour
INDelhi-Gandi House-gate1-tour
INDelhi-Gandi House-gate1-tour
INDelhi-Humayans Tomb-gate1-tour
Next day (a copy from the Gate1 website): Travel to Agra via Abhaneri Depart Jaipur to the small ancient village of Abhaneri in northern Rajasthan. Begin at Chand Baori, one of the largest step wells in India, fortified on all sides. This unique idea was conceived by the early natives to work as a water reservoir, located adjacent to the temple dedicated to Harshat Mata, goddess of joy and happiness – an architectural jewel. Then after lunch, continue on to Agra, with its celebrated past, rich heritage and architectural delights. The rest of the day is yours to enjoy the delights of this splendid city. Dinner is at the hotel. My addition to the description - look in the pictures at a STEPWELL. They built steps to walk down to a well to get buckets of water. The stairs are symmetric and make a beautiful geometric pattern.
INJaipur Travel Stop-gate1-tour
INJaipur Bazaar-gate1-tour
INJaipur City Palace-gate1-tour
INJaipur Bazaar-gate1-tour
Next day (a copy from the Gate1 website): Amber Fort, Jaipur Excursion to the spectacular Amber Fort, a stunning fusion of Mughal and Hindu styles with its gorgeous Palace of Mirrors. Ascend the hill to the ramparts by jeep. From here, see the panoramic views of Jaipur's original city walls and the lake below. Stop for refreshments before shopping the vast collection of local handicrafts at Jaipur Handicrafts, offering premium quality handmade carpets, textiles, pashminas, pottery and paintings. Fabrics in all colors and textures are available for loose purchase as well as custom design work. Spend the afternoon at leisure strolling through the city's delightful gardens, or, join the optional tour to view the well-preserved 18th century Jantar Mantar Observatory and drive past Hawa Mahal, the "Palace of Winds" with its lacy ornamental façade. Later, the tour continues to the opulent City Palace, former royal residence, now a grand museum with an extraordinary collection of miniature paintings, costumes and armory. Tonight's optional evening is highlighted by the exotic flavors of Indian cuisine at a local neighborhood restaurant, while you're entertained by performers in traditional attire as they execute various dance moves to the rhythm of the accompanying musical instruments.
INJaipur JantarMantarSundial-gate1-tour
INJaipur MabarakMahal-TextileGallery-gate1-tour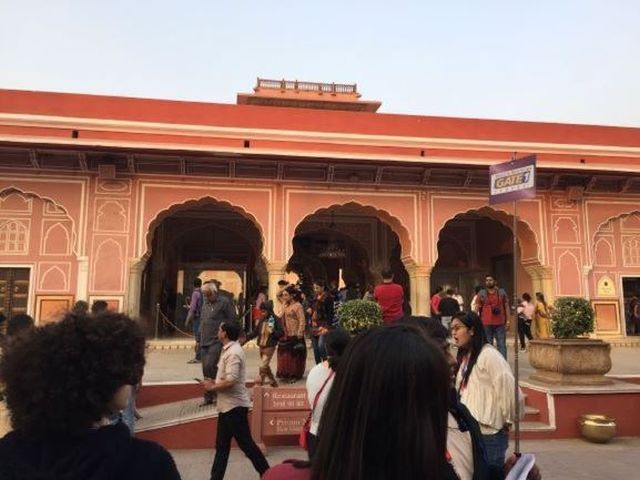 INJaipur JaipurAmberFort-gate1-tour
INJaipur JaipurAmberFort-JeepRideToTop-gate1-tour
INJaipur JaipurAmberFort-gate1-tour
INJaipur JaipurAmberFort-gate1-tour
INJaipur JaipurAmberFort-gate1-tour
Next day (a copy from the Gate1 website): Taj Mahal A memorable day as you visit the astonishing Taj Mahal, built by Emperor Shah Jahan as a mausoleum for his beloved Queen. Perhaps, this is the most perfect architectural monument in the world, built of white marble and precious stones over a 22 year period – considered the finest example of Mughal architecture. Afterwards, stop at Kalakriti Marble. The Taj Mahal inspired the Kalakriti family to become the manufacturer of fine inlaid marble work. Marvel at the museum quality workmanship as you watch a demonstration of the timely process of marble carvings, filigree and stone inlay. Then browse Kalakriti's home furnishings and decorative items. In the afternoon, participate in the not to be missed optional tour to the red sandstone Agra Fort, with its incredible maze of walled courtyards, mosques and lavish private chambers reflecting the grandeur of the Mughal Empire; this monument has been named a UNESCO World Heritage Site. Next, to the Tomb of Itmad-ud-Daulah built of the finest Indian marble embellished with mosaics and inlay of semiprecious stones. Enjoy the evening at leisure.
Final day (a copy from the Gate1 website): New Delhi Depart Agra this morning and return to New Delhi on your last day in India. Upon arrival, time to freshen up before tonight's festivities. Bid farewell to your newfound friends and Tour Manager at a festive Farewell Dinner at the hotel.
INAbaneri Stepwell-gate1-tour
INAbaneri Stepwell-gate1-tour
INAgra-TajMahal-gate1-tour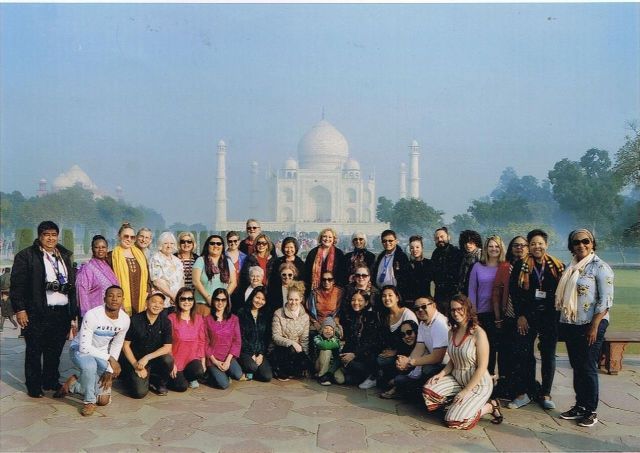 INAgra-TajMahal-gate1-tour
INAgra-TajMahal-gate1-tour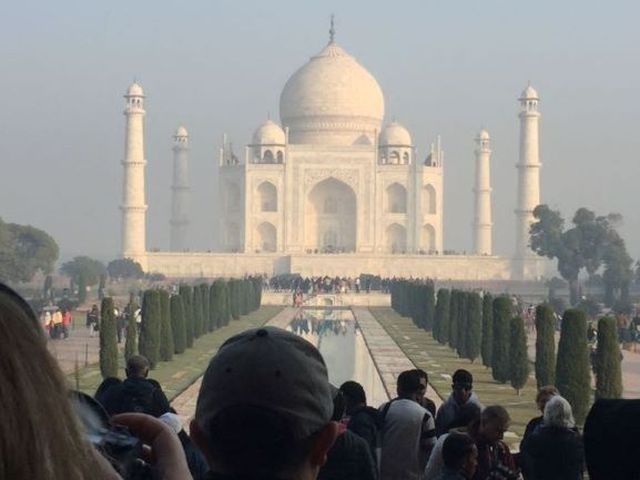 INAgra-TajMahal-gate1-tour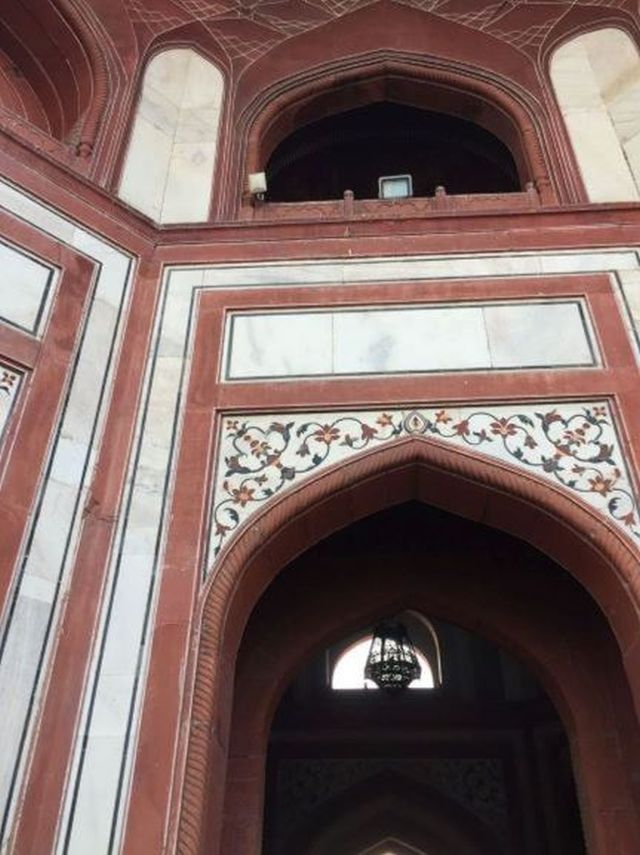 INAgra-TajMahal-gate1-tour
INAgra-TajMahal-gate1-tour
INAgra-TajMahal-gate1-tour
INAgra-TajMahal-gate1-tour
I recommend that readers of this blog also visit website http://YouTube.com and search for the word "India". Many other travelers have placed video there about their trips. Also, looking at google maps pictures is very interesting.
-------------------------------------------------------------------------------------------------
As always, any comments that you have about the website would be appreciated.
Blog-Note 1: Because the pictures take a long time to load, it is best to view these webpages using a desktop.)
Blog-Note 2: http://PuddinInVannaWhite.wordpress.com is the 'original' website of this blog. This blog has a domain name without the .wordpress. middle name. see website=PuddinInVannaWhite.wordpress.com for older trips ---)))LEFT MOUSE CLICK HERE"(((---
Blog-Note 3: I have another website. It is about my 1971 MGB. I sold it but still retain great memories from the days that I owned it. The url address is : see website=PuddinInThe MGB.wordpress.com ---)))LEFT MOUSE CLICK HERE"(((--- )