2020-07-21 Drive from GA,Atl to GA,Sweetwater Creek Campground is about 45 miles.
---
I've been "Lockdowned-due-to-Coronavirus" and have not been anywhere. I follow many friends on Facebook and joined a group of women campers. One of the group posted that they had reserved a spot on Lake Allatoona for several days in late July and invited others to join her. I put the date on my calendar, and thought that it would be a good opportunity to meet some new campers and get away for a day or two. I only reserved one spot for one night because I didn't know the campground and from the map that I saw on the internet, I was away from the group. Many of the campsites were reserved and I picked a spot that was reasonable. My plan was to look at the area and determine after I arrived if something was better. The check-in time is 4PM, but I was able to pack after getting up and drive there just after lunch. I wanted to drive around to see what was there and after arriving, I decided to just check-in and look at the camping area. There is a "low-area" near the entrance gate and a mile-and-a-half inside is the "high-area". Our sites were in a forested high-area and to go to the swimming area, you had to walk a half-mile. I was early, so I read a book some and eventually saw the others arrive. I introduced myself, talked some and returned to my campsite to read more. An afternoon thunderstorm helped cool the hot temperature. Around dusk, the camping group drove by my site and said that they were going out-to-eat and wanted to know if I would like to join them. I rode in the back seat and we went to a restaurant in Woodstock, a neighboring surburb. (There were four people in the group.) We had some excellent food on a wonderful outdoor patio. I didn't remember to take a picture of my food or the patio, but I did get one of dessert.

The next day, I drove to the campground office and asked if I could get a campsite closer to the group. The office assistant gave me the national reservation number and told me that it is sometimes busy for a while, but if I am patient, I will get what I wanted. She was right and it did take about 20 minutes to get through the wait-for-help, someone to find the campground and campsite that I wanted, and another to input my credit information. I was only able to reserve one night on the campsite that I wanted, so I decided to return home a day early. In the afternoon, I met with the others and we chatted a while and they told me that they were cooking supper over a campfire. They expected it to be ready about 6:30. I read more in my book and my eyelids were so heavy that I couldn't read, so I took a nap. I was up in time for a wonderful meal of veal, steak, bread, summer squash, mushrooms. What a TREAT! We talked until dark and I returned to the van. The next morning, I met friends of my A-Frame camper neighbor. Her friends wanted to see inside her camper and I took pictures of her rig. She said that one of the things that she likes best about her A-Frame camper is that you can see behind you when driving (because the roof is down). Well, after her friends left, our 'cookers' told us that they were cooking again over the campfire. I didn't have a campsite for the night, so I checked-out at 3PM and then requested a visitors pass from the office so I could stay for supper. I was amazed at the meal our hosts cooked for us. IT WAS SNOWCRAB! AND IT WAS DELICIOUS! Amazing cooks and meal preparation. I had brought refrigerator leftover food to eat and had not expected to eat so well on my trip. Hope that you enjoy the pictures. Note: I call this "GLAMPING" because we ate so well, it was "Glamour-Camping".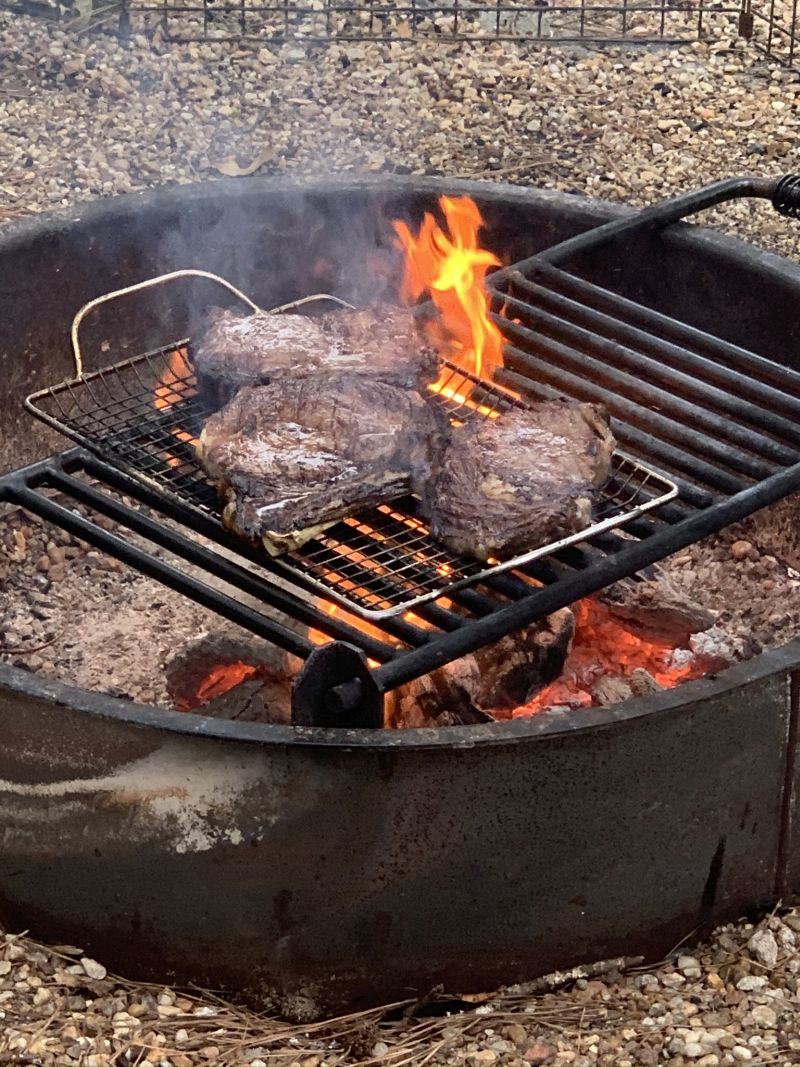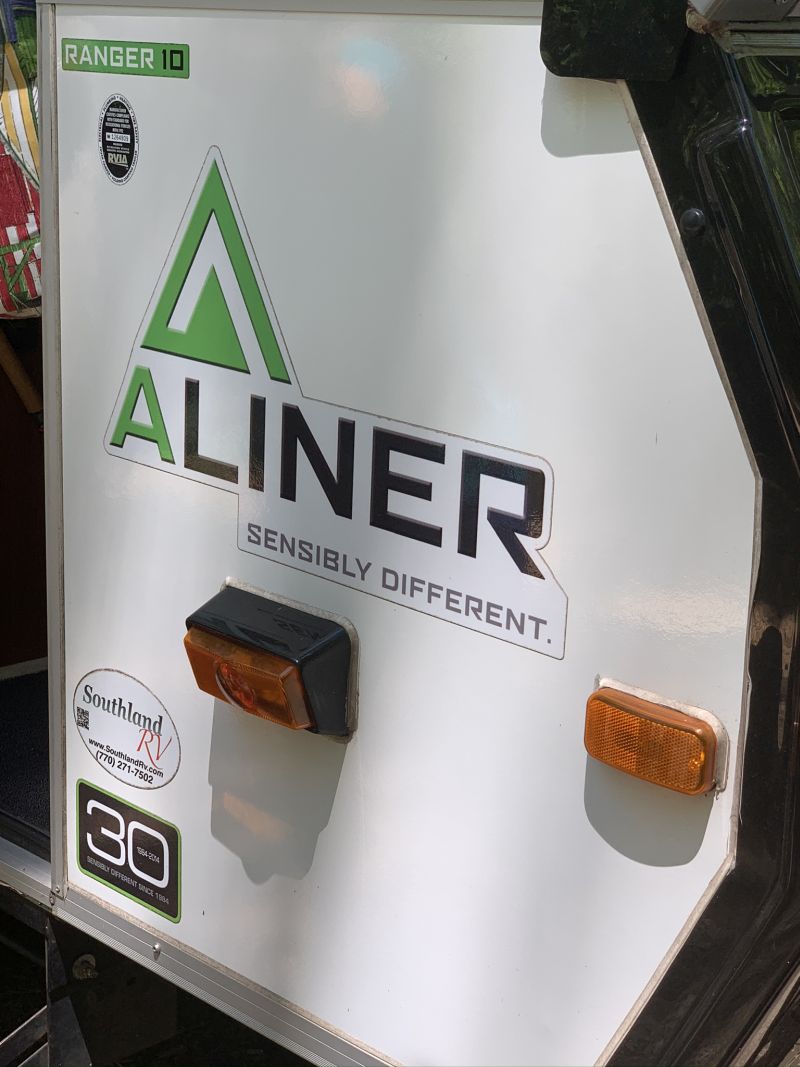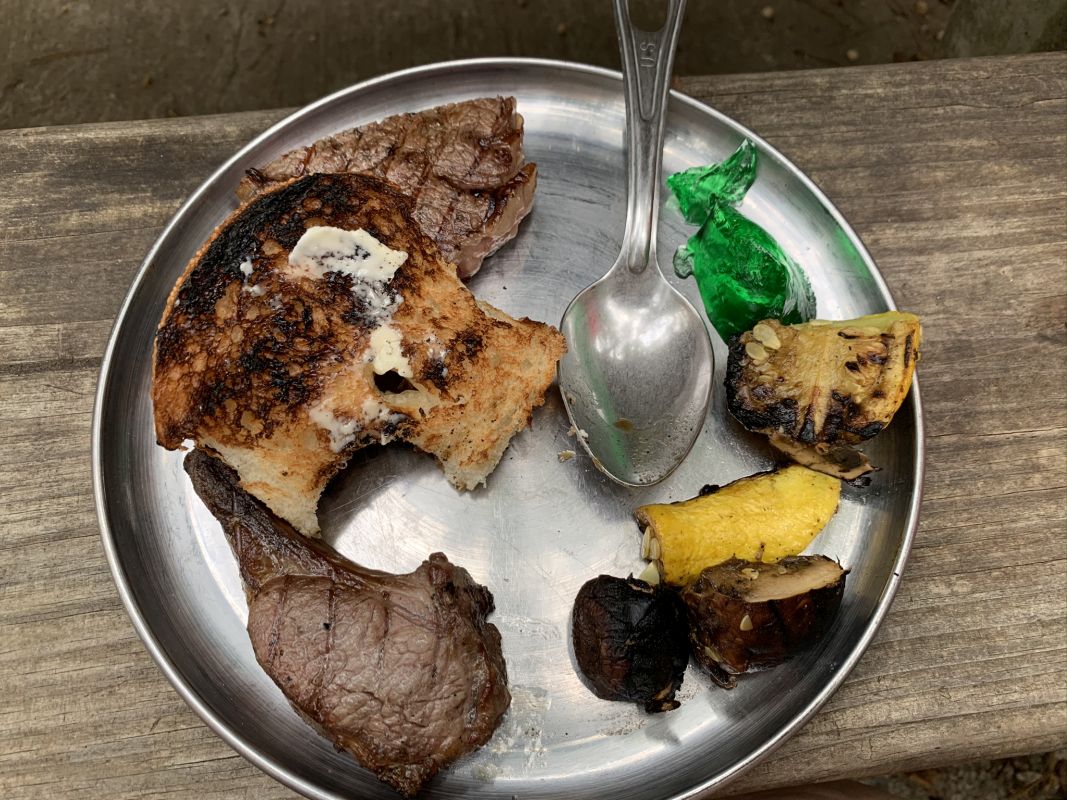 ((As always, any comments that you have about the website would be appreciated. (Blog-Note 1: http://PuddinInVannaWhite.wordpress.com is the 'original' website of this blog. This blog has a domain name without the .wordpress. middle name. see website=PuddinInVannaWhite.wordpress.com for 'older' trips ---)))LEFT MOUSE CLICK HERE"(((--- Blog-Note 3: I have another website. It is about my 1971 MGB. The url address is : see website=PuddinInThe MGB.wordpress.com for 'older' trips ---)))LEFT MOUSE CLICK HERE"(((--- ) ) Blog-Note 2: Because the pictures take a long time to load, it is best to view these webpages using a desktop.)