2021-07-10 to 2021-07-24 from Chicago, Illinios to Atlanta, Georgia
The drive from McHenry,MD to Chicago,IL by Google Maps is 560 miles and takes about 9 hours.
From Hunyak farm, the nearby McHenry area where I camped, I left around 10am after saying 'bye' to the group. I drove all day, enjoying looking at the countryside and not as much traffic as I had encountered when driving to Maryland. The Maryland and Ohio areas had some hills and small mountains and was interesing twisty driving in some areas. Naturally, I took a few wrong turns, but Garmin GPS knows how to get me back on the right road. Indiana had level roads and an area under construction which required a detour through a couple of small towns. It was interesting to see areas that I would otherwise bypass. By dusk, I made it to Van Wert and needed gas. I saw a Walmart and pulled to the pump and filled up. I asked the statio attendant if it was OK to park overnight in the parking lot and she said that there were always many semi-tractor trucks there in the morning. I took that to mean 'yes' and found a parking spot near the station. When I woke up the next morning, there were several cars around me who had also stayed there (but, I didn't hear them during the night). I began my drive to Chicago and really didn't want to drive 'in the city' because I don't know the roads that well. I asked my son to meet me outside the heavy traffic area and he reminded me that I shouldn't park long on the southside of the City. As I drove closer to the city, traffic wasn't as bad as I had imagined it would be and it was Saturday. I kept driving until GPS told me the exit to use. I continued to follow the GPS and drove around the area, missing a turn or two, but eventually getting to my sons house. He parked the van on the street for me and helped me unpack my bags.
ILChi,River_sign_You-Are
ILChi,River_SightseeingBoat
ILChi,River_Northman-beer-garden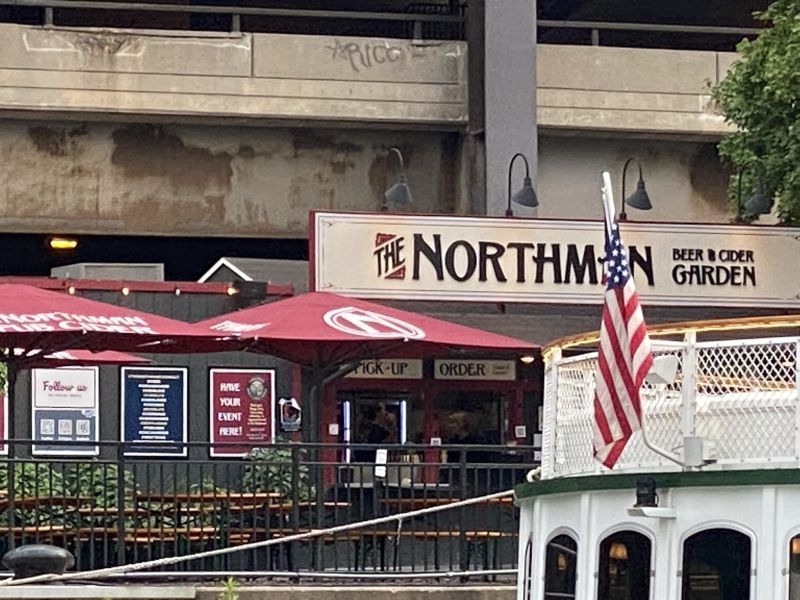 ILChi,River_nearShorelineSightseeing
ILChi,River_nearPowtowmiLand
ILChi,River_nearDockShorelineSightseeing
ILChi,River_Lock-doorOpen
ILChi,River_lastBridge-beforeLock
ILChi,River_IslandPartyHut
It was great seeing him and being in Chicago again. The weather was great - perfect temperatures and not a lot of humidity. He showed me many places that he likes and we ate in his favorite restaurants. He had just bought a boat and took me for rides in the harbor several times. I had a wonderful time there and intended to stay a week. However, those plans changed when I decided to take the train home. I ended up staying almost 2 weeks. My friend, Margaret, invited me to view the Indian woman exhibit at the Field Museum on Saturday. We spent the whole day at the museum and also saw the Jane Goodall exhibit and 3D movie on Titanosaur, Maximo. Her husband, Bob, gave us a ride there and back. Had a wonderful time. I couldn't resist posting some pictures that I took of downtown Chicago ... (and a couple of miscellaneous pictures)
Miscellanous Picture1=Dumping the blackwater tank of a Roadtrek>
downtown-tall-buildings
downtown-building-gargoyle-decoration
Miscellanous Picture1=Dumping the blackwater tank of a Roadtrek>
ILChi,InterstateHighway
Miscellanous Picture3=Visit to Chicago Field Museum - Indian Women Exhibit (Note: It is HUGE and I wished that I had more time to explore there.)
My son bought a boat the day before I arrived. I HAD to include some pictures of our outings. Also, I HAVE to announce that a few days after I left, he sold the Roadtrek Zion that he had purchased last year.
ILChi,nearNavyPier-insideHarbor-Skyline(highRise-Lights)
ILChi,nearNavyPier-insideHarbor-Skyline(highRise-Lights)
ILChi,River_Harbor-House
ILChi,Harbor_TallestBuilding-inCloud
ILChi,Harbor_Tall-buildings-in-clouds
ILChi,Harbor_NavyPierEnd-closeup
ILChi,BelmontMarina-dock
My son and I enjoyed riding around the city and eating at restaurents that he recommended. (It's vacation! I get to eat now and be sorry later.)
ILChi,Mexican-Goat-Soup(Ray's-Favorite-Restaurant)
ILChi,BirrieriaEstiloJalisco-MexicanRestaurant-Exterior
ILChi,OutdoorTable-HomemadeCinnamonBun
ILChi,DivisionSt_ChebaHut-WallMural
Al's-beefSandwich-after-boating_Group-eating-on-carTrunk
ILChi,WJamesMRochfordSt,MaxwellSt_Jim'sHotDogs
ILChi,PequodsPizza_outdoorSign
ILChi,HotDog-with-onions-and-frenchFries
The -big event- was returning to Atlanta on Amtrak-a train! When looking at airline schedules and arranging transportation back to Atlanta, I decided that I wanted to try returning on an Amtrak train (which I had never ridden). I read about the system on the internet and watched Youtube videos about others who have traveled around the country. I looked for a ticket and couldn't find an available seat that was open on the day that I wanted to return. After learning more about their internet check for seat availability, I reserved a coach seat for Thursday leaving at 5:45PM. I was amazed that the website noted that the trip to Atlanta took 37 hours and that I should arrive on Saturday 8:45AM. There was a 5 hour layover in Charlottesville,VA to connect with the southbound Crescent train bound for New Orleans. I decided to reserve a coach seat and hoped that I would be able to sleep some at night. The sleeper-cars were full and during the trip, the conductors said that the coach seats would also be all-occupied. We had many stops during the night and passengers would both exit and enter at them. The stops were short and the train quicky rocked-on. The first night had cool temperatures in the cabin and I had to bundle up with my coat and spare clothes. I think that my sleep was good-enough to not be too tired the next day. After 23 hours on the train, both my seat-mate and I got off at Charlottesville. She traveled to New Jersey and I waited on the southbound Crescent. The train arrived at the station an hour late, so my wait time was only 4 hours. I met many others in the station who were also waiting on the Crescent arrive. We boarded around 8:45PM and arrived in Atlanta arund 8:45AM. This leg of the journey included a warmer sleeping time and I remembered my seat-mate exit about 12:30AM and a new person sitting in the seat. I didn't say anything to them and fell asleep for the night. I woke up when the conductor walked through the car telling us that we would be in Atlanta in an hour. After exiting the station, I saw 2 taxi's nearby and took one home. I took a nap and was happy to be home. I have to say that my son recommended that I ship my rolling black-suitcase so that I wouldn't have it on the train. They have bag check-in, but a fellow traveler told me when changing trains in Charlottesville, not all stations have baggage handling. I don't know if Charlottesville handled bags or not. I used a book-bag (backpack) and waist-pouch for cell phone on the train. The backpack was hard for me to store above the seat, so I put it underneath my legs at the seat. I could easily find items when needed from it there.
VACharlottesville,AmtrakStation-train-time-schedule
VACharlottesville,AmtrakStation-50Cardinal-from-Chi-arrival
ILChi,Amtrak-outside-drop-off-area-near-entrance-door
ILChi,Amtrak-50Cardinal-waitingRoom
ILChi,Amtrak-50Cardinal-Depart-Skyline-behind-other-train-cars
Amtrak-50Cardinal-Depart-boarding
ILChi,Amtrak_UnionStation-entrance(drop-off-area)
I would love to have your comments about this blog. The wordpress software that I used when I first began blogging allowed comments as part of the webpost. However, my software has changed and the new blog post does not allow that feature. You may email me at j-x-h-u-g-h-e-s at g-m-a-i-l dot c-o-m with NO DASHES and appropriate email custom nomenclature.
-------------------------------------------------------------------------------------------------
As always, any comments that you have about the website would be appreciated.
Blog-Note 1: Because the pictures take a long time to load, it is best to view these webpages using a desktop.)
Blog-Note 2: http://PuddinInVannaWhite.wordpress.com is the 'original' website of this blog. This blog has a domain name without the .wordpress. middle name. see website=PuddinInVannaWhite.wordpress.com for older trips ---)))LEFT MOUSE CLICK HERE"(((---
Blog-Note 3: I have another website. It is about my 1971 MGB. I sold it but still retain great memories from the days that I owned it. The url address is : see website=PuddinInThe MGB.wordpress.com ---)))LEFT MOUSE CLICK HERE"(((--- )