2022-06-25_to_2022-07-10 MD,McHenry (near Accident) - camping on a friends farm with several others in vans
This post is divided into 3 pages. The trip to (Webpage1)McHenry was 2 weeks, the trip to (Webpage2)Chicago was 2 weeks, and I greatly enjoyed a visit to the (Webpage3)Chicago Field Museum.
-------------------------------------------------------------------------------------------------
I planned to be away from home for a month. I was to travel in the van so I packed everything that I thought I would need. (Translation: if I was to be on a train or airplane, I would try to pack lighter and only carry small 'travel' packages.) I closed the house about 10AM and drove as far as I felt I could safely be alert and stopped for the night in Winchester, VA.
My drive from Winchester to McHenry was only a couple of hours. The weather was great and I enjoyed driving there. I had a toll-road on the way and the roads were smooth. I didn't take any pictures along the way. When I arrived, it was HOT and I was the first van for the gathering.
The owners of the farm had their camping trailer at the top of the hill where we camped last year. They knew that not as many planned to attend this year and we didn't have a shelter-canopy like last year, so - because of the heat, we decided to relocate the camper to a cooler area near the entrance to the farm.
After a couple of days, others arrived. One person lived nearby and over-the-weekend returned home and came back to the camping area for a few more days. One attendee came the second week for several days and had to return home for some business. Another fellow-camper came a couple-of-days after I arrived and stayed a couple-of-days after I left. Everyone had different schedules. We enjoyed the sunshine and great weather. We rode around the farm looking at the garden and for wild animals. We saw the fireworks show for the Fourth-of-July. It was a good time being with the other campers.
On the start of the trip, gasoline prices were high. Several people who attended last year declined to come this year because of the cost of the trip. Also, some of the group live far-away and the distance was not convenient this year. I especially enjoyed what I call "the day". Just not having to go to a job, being out in clean air and sunshine. I listened to a lot of birds chirping, saw many butterflies in the field, and tried to learn the plants and flowers in the area. I didn't see the bear this year or last.
The cellphone service for the area is 'one bar' for me (Verizon). I.E. not very good. I didn't use the internet, didn't make any calls and didn't hear any news. The world could have crashed and I would have never known. It was the perfect 'bug-out' place. It was tough, but I survived. (Just kidding)
I have to admit that we had a darkness over the gathering. One of the people who attended last year had very recently been found in her van and she had passed away. She had been to doctors and had surgery. I thought that she had been recovering well and was getting better. Sadly, I was wrong.
-------------------------------------------------------------------------------------------------
The picture below is a 'joke'. The group calls themselves "Hunyaks" because the first time that we camped in the area, the word 'hunyak' was seen for the first time. It is an unusual word and we liked it and adopted it. The van and house trailer are used for storage of building materials and household goods.
2022-06-30_MDMcHenry,HunyakFarm_nearSilos-WhiteVanStorage,HouseTrailerStorage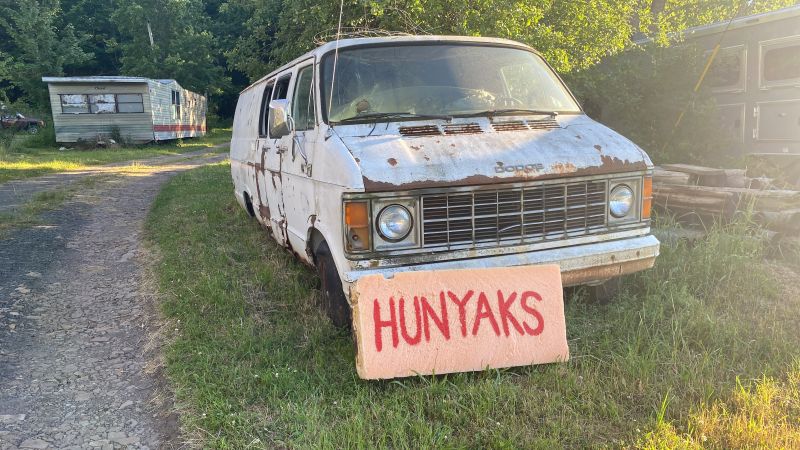 Below is a picture of the garden that the owners use. We enjoyed many vegetables from the garden - and a deer harvested from the farm was in some spaghetti that we ate.
2022-06-27_MDMcHenry,HunyakFarm_farm-garden
I decided to include a picture of "Vanna White" in her parking spot. I was near the farm owners and others who decided to camp in the area.
2022-07-01_MDMcHenry,HunyakFarm_(VannaWhite)
A fellow-camper had a book about handwoven tape. I read it while there and admit to not knowing anything about weaving and how to make a tape like the book cover describes.
2022-07-03_MDMcHenry,HunyakFarm_(Book)Handwoven-Tape
The farm-owner has 3 weaving looms and showed us the one that she uses for making t-shirt rugs. I had no experience with weaving and was fascinated by the demonstration of its use.
2022-07-04_MDMcHenry_RugBus(YellowSchoolBus-inside)rug-loom
One of my fellow-campers had a special ulu knife (the type used by Alaskans) made. The handle is bone and her family member made a plywood case for it so she could store it and not hurt the blade.
2022-07-08_MDMcHenry,HunyakFarm_UluKnife(Handmade-with-wooden-holder)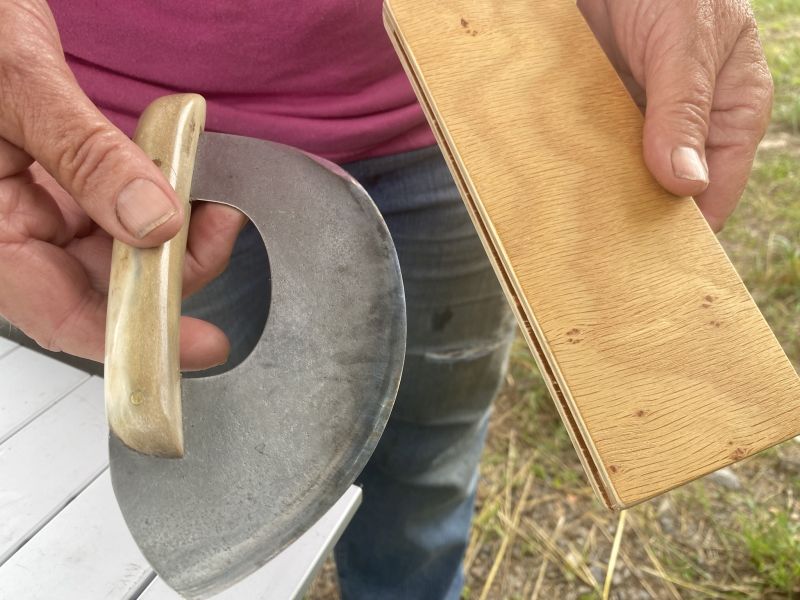 The next few pictures include some of the food we shared. The first picture is of our HotDog supper.
2022-06-30_MDMcHenry,HunyakFarm_(Dinner)HotDog,cucumber,zuchiniCake
A fellow-camper lived nearby and has a housemade who likes to cook. We were treated to homemade Cinnamon Buns with flavored icing that was "OUT OF THIS WORLD"!
2022-07-06_MDMcHenry,HunyakFarm_fromCamper-BakedBy-Carolyn(housemate)_CinnamonBuns
If you are camping, HotDogs are an easy meal. We enjoyed them several times.
2022-07-07_MDMcHenry,HunyakFarm_HotDogs,Macaroni,Chili,Applesauce,PickledBeets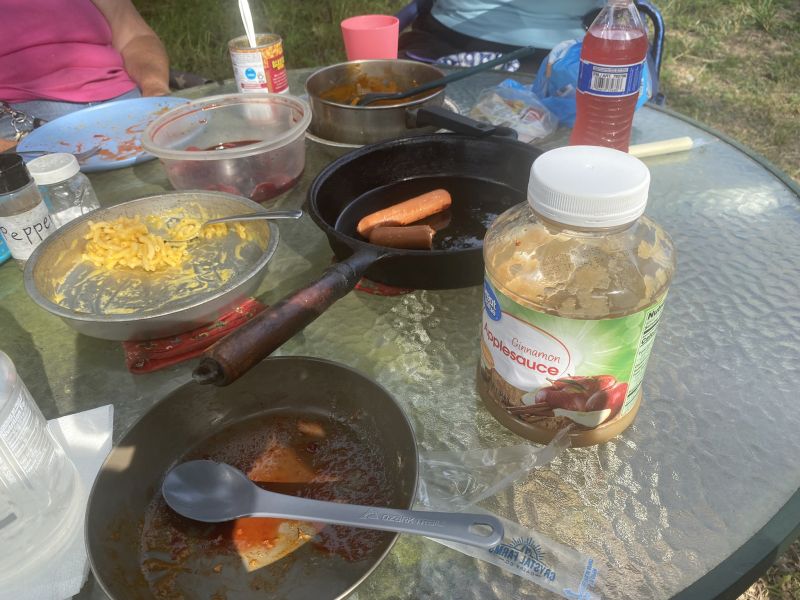 One of our meals was a delicious spaghetti dish that included deer meat and vegetables from the garden.
2022-07-08_MDMcHenry,HunyakFarm_spaghettiNoodles-deerMeat-tomatoes-onions
-------------------------------------------------------------------------------------------------
-------------------------------------------------------------------------------------------------
As always, any comments that you have about the website would be appreciated.
Blog-Note 1: Because the pictures take a long time to load, it is best to view these webpages using a desktop.)
Blog-Note 2: http://PuddinInVannaWhite.wordpress.com is the 'original' website of this blog. This blog has a domain name without the .wordpress. middle name. see website=PuddinInVannaWhite.wordpress.com for older trips ---)))LEFT MOUSE CLICK HERE"(((---
Blog-Note 3: I have another website. It is about my 1971 MGB. I sold it but still retain great memories from the days that I owned it. The url address is : see website=PuddinInThe MGB.wordpress.com ---)))LEFT MOUSE CLICK HERE"(((--- )